Professional and Reliable Civil Contracting Services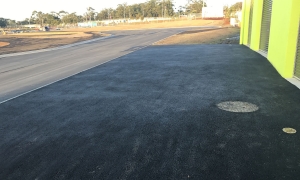 Versatile Earthmoving was established in 2009 and has evolved to establish itself in the civil earthmoving industry offering a professional and reliable service covering many aspects of civil contracting.
As a civil contractor we cover a range of civil earthworks projects from bulk earthworks to basement excavations, car parks, internal road works, commercial, industrial and residential site preparation.
Versatile Earthmoving also offers options for cartage and disposal of materials weather importing or exporting of materials.
We have a collaborative total of over 50 years of experience in the industry and always adhere to industry best practice methodology.
Our operators are all experienced in their specialties and approach all projects with a can do attitude with the aim of creating a successful working relationship with our clients to be able to complete projects on time.
Versatile Earthmoving offer a fleet of late model well maintained machinery and trucks for use on our projects minimising unwanted breakdowns.
Our contract administration team have many years of experience when it comes to pricing tenders/pricing projects, compiling quantities and designing project programmes and methodologies.
To obtain specific information on your location, or obtain a quotation please contact our company


We are located in North Lakes, QLD